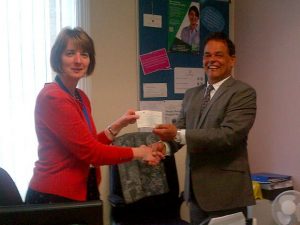 Chris Browne Builders, specialising in school construction works has recently completed the new state-of-the-art sports hall facility at St Andrew's Prep, Meads, Eastbourne.  This development was subject to a local labour agreement supporting local business and people.  To enable ongoing assistance to those looking for employment in the construction industry, Chris Browne Builders made a donation to People Matter.
Chris Browne said 'We are pleased to support those looking to secure employment and a career in construction.  Some of my staff started on an apprenticeship and others have joined us after a career change and are still with us many years later.  The construction industry offers many career paths and there are opportunities to develop skills whilst working.  With the level of development and regeneration taking place in the south east, construction is a good career choice.'
Photograph of Ann Gillard, General Manager of People Matter receiving the donation from Chris Browne.