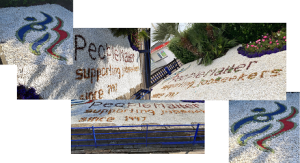 … month 2 of our 25th anniversary year and we're still celebrating the news, earlier this month, that we have been awarded The Queen's Award for Voluntary Service – more on this next month when we'll share pictures from the presentation of the award.
Meanwhile, we've been planted!
Many thanks to Lewes and Eastbourne Councils for including us in their planting scheme this year. You can find us in the Carpet and Seafront gardens to the west of the main garden, facing towards the pier.
And if you'd like to sponsor a paperchain person or a group of paperchain people (£1 per smile!), please visit our office to add your own smile, or use our 'donate' button, put 'Paperchain People' in the comment box and we can add smiles on your behalf.