Please support the work of People Matter … Can you help us to Crowdfund? 
Over the past 21 years our team of dedicated staff and volunteers has helped over 11,500 people, and although our services are free of charge, they are not free for us to provide. Some services are partly funded by the generosity of faithful supporters.
As the rate of unemployment has fallen, so potential funders, such as trust funds, have taken the view that the need for the kind of help we provide has reduced. Our main source of government funding is also decreasing. Yet we know we are seeing more people who need additional and ongoing support which is just not available elsewhere.
We now urgently need your help in addressing a short-term funding need.
Whilst our current financial situation is challenging, it is also giving us the opportunity to review what we do and how we do it. As a result of that process exciting new prospects are now developing.  As an organisation, we have continually adapted to change and are confident that, with your help, we will continue to do this both now and in the future.
Would you please consider supporting us today, either by making a one-off donation or by supporting us with a regular amount.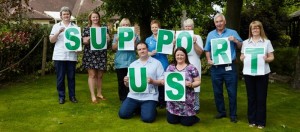 We recognise the valuable role played by those who support the work of People Matter both physically and financially. Thank you for your generous giving
All donations can make a difference to our work. As a guide it costs us:
Could you sponsor one of these or our postage stamp fund or the refreshment and hospitality fund for jobseekers?
You can donate in the following ways:
send a cheque payable to 'The People Matter Trust'
arrange a monthly direct debit
make a payment online with your PayPal account
If you are a UK tax payer, you can make your donation worth 25% more by making a gift aid declaration.
For more information about giving to People Matter , please email reception: reception@people-matter.org.uk
Volunteer
Do you have any time to spare? Can you offer us your skills and experience?
If you have any skills you would like to donate eg:
administration to help with our paperwork
practical to help maintain our building
advice, information and guidance to help our jobseekers
fund raising to help with our finances
business to help with our partnerships
If you would like to offer your time and skills, please email reception: reception@people-matter.org.uk
 Join our event
During the year we host a number of fund raising events. If you would like to support us at any of our events, please email reception: reception@people-matter.org.uk
Become a business partner
Are you a local business looking to support a local charity and help make a different in the local community? Each year we need to raise £200,000 to equip and support local jobseekers in achieving their employment goals.
You can support us in a number of ways:
sponsor one of our activities or funds
make an annual commitment from your charity fund
fundraising in the workplace with staff and customers eg coffee morning, quiz
offer office equipment, stationery or office supplies
By supporting People Matter, your company will help us to help others.
For more information about becoming a business partner, please email reception: reception@people-matter.org.uk
Legacies
Could you leave us a gift in your will?
You can help us continue to meet the needs of jobseekers in the future by leaving us a gift in your will.
There are several ways of giving from your will – you could leave us:
a specific gift, such as a property, painting or antique
a set sum of money, called a pecuniary gift
a share of your estate, called a residual gift.
For more information about leaving us a legacy, please email reception: reception@people-matter.org.uk
Whichever way you choose, we are grateful for your support.